Danny Brothers, winner of the first Radstock and Westfield Dragons' Den, reports on how the money helped to set up a Battle of the Bands at Victoria Hall: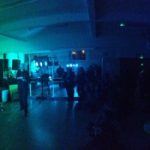 The inaugural Battle of the Bands took place at Victoria Hall in Radstock on Friday, April 25th thanks to the generous backing of the Westfield and Radstock Big Local and the Radstock Youth Partnership. Four bands and performers took part with a fantastically high standard throughout the evening.
Local residents showed great support for the event which was put together to give the winning band a place at Peasedown St. John's annual Party in the Park, a place at Bath's Party in the City and a £100 cash prize.
The standard was set immediately with a superb set by The Wranglers who brought their brilliantly crafted songs to the appreciating crowd who had begun to relax into the evening.
Too Much Lipstick were up next and they entered with a high energy performance of their increasingly popular "It's Got Me" single. Big things are expected from the five piece from Bath and they didn't disappoint.
Following that there was a change of pace as local acoustic act Arthur Hannan's soulful vocals and creative mixing of classic songs send chills through the room.
The final band, Rivers of England, returning to Victoria Hall after playing at the opening night, closed the evening with their own blend of modern folk and won the judges over enough to win the competition.
Rivers of England will now appear at Bath's Party in the City on May 16th and at Peasedown Party in the Park on June 14th at Beacon Field in Peasedown.
I would like to place on record my thanks to the Big Local and to Radstock Youth Partnership for their support for Battle of the Bands – we were able to bring some of the best local talent around to Victoria Hall and showcase how the venue can be an integral point of a new music scene in the area.
I would also like to thank HL Audio for an absolutely superb service with the PA system, Somer Valley FM for their promotion of the event, Enlightened Lighting for their lights and a number of key individuals who were integral in making this night happen – Martha Brothers, George and Sue Hill, Emma Shoosmith, Simon Allen, Caroline Green, Dom Chambers, Luke Barnes, Isha and Jeremy Harris, Ben Curd and Phil Fairington.
Thank you also to our three fantastic judges on the night – Josh Curd, Mike Auton and Anna Parry and of course to all of the bands for the top quality entertainment. Finally, a big thank you to everyone who came to the event and encouraged us as the night went on.
We will be holding more and more music events at Victoria Hall in the future and we see this as just the start of something big for the local music scene.