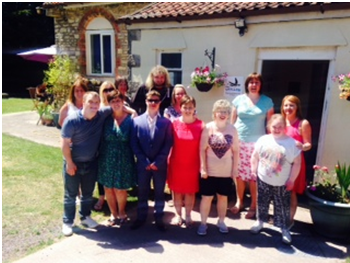 Radstock and Westfield Big Local are proud to have funded a special outing for SWALLOW members. We asked Nicky Tew, Fundraising and Finance Manager at SWALLOW, how they got on:
How did the funding help our local community?
The trip funded by the Dragon's Den money was the highlight of the summer for many of our members.  They had a wonderful day.  Here is a report from the team leader:
"We all had packed lunches on the harbour front while we waited for our boat to dock. Had our boat trip around Brownsea Island & the harbour, the sea wasn't very choppy so we had a smooth boat ride.  Passed lots of expensive yachts & also saw the police boat go past us.  Afterwards we split up into groups.  Some members wanted to play in the seafront amusements, some members wanted to go for a walk along the seafront, while other members did some souvenir shopping for their families.  We all met up at the end and had ice creams before getting back on the coach for the trip home.  The members were all very tired by the end of the day & many slept on the coach ride home!  The weather was lovely with sunny intervals.
I have some quotes from our members:
From S: "The trip to Poole was very educating because we saw very rich people's houses in Sandbanks. The best part of trip was socialising with other member and support staff."
From P:-  "It was brilliant, the boat trip was wonderful. Can't wait for the trip next year!"
Why did you choose to help Radstock and Westfield?
SWALLOW is based in Westfield as that is where many of our members, people with learning disabilities come from.  We have also developed the SWALLOW community cafe in Radstock which benefits our members and is an important community resource.