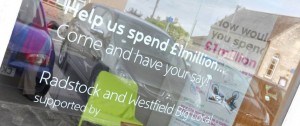 If where you live matters to you then please consider this once in a life-time opportunity to play a gigantic part in its future. It's a chance for residents to have a defining and direct impact on how £1million is spent in their area – no Council or government telling you what to do – just residents. This will build a lasting legacy for the area, for you, your family and for others.
There are many ways to get involved:
Big and beautiful: Volunteer on the management committee and have your say on ideas and projects while also driving schemes forward. Meetings are usually held every four to six weeks with the aim of developing themes which can benefit children and young people, business, tourism and connecting communities. You must join the Partnership to be on the management committee. We especially need volunteers for the management team as we are in a crucial stage of the process. The more people we have, the better the projects will be and the more we can get done. This will really make a difference and we need heroes to step forward!
Middling and magnificent: Volunteer on the Partnership team and discuss the funding of the proposals. Responsibilities also include remaining abreast of what is happening with the Big Local, for example the work of the Management Committee. Please use this form to join the partnership
Small and significant: Get on our mailing list, post comments on our facebook page, tweet us, and tell your friends and family about it.
Businesses in the area: If you run a business, please tell us what will make a difference for you; there may be ways we can help. We want to help people gain the skills to work locally, via re-skilling workshops or through apprenticeships. Please consider how you could benefit and what you can offer.
If you have an idea: that fits our themes and you would like to develop it then please get in touch with our workers, Sarah Westell and Rob Wicke, who are looking forward to helping you. We are in the process of creating an application form and supporting documents that anyone wishing to apply for funding from us can use.
For more details email: info@radstockwestfield.org.uk or phone 07845756700
Our office is in the Carers' Centre - 1 Riverside Cottages, Radstock BA3 3PS - We are often out and about so it's best if you make an appointment first. If our flag is flying outside then we're in!