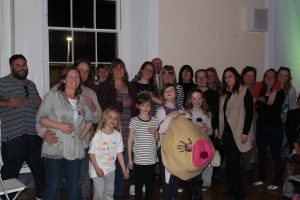 We are very proud to have funded the CoppaFeel event in our area! They were awarded the funding by the residents of Radstock and Westfield at our 3rd Dragons' Den.
ARTICLE FROM MNR JOURNAL SOMERSET 23.4.16
http://www.mnrjournal-somerset.co.uk/article.cfm?id=101012&headline=Successful
Two mothers with young chidren from the same class at Longvernal School, Midsomer Norton, who were diagnosed with breast cancer, have teamed up to offer local women, men and children the chance to learn more about their own bodies. Thanks to a £500 grant from Big Local, a successful event was held at Victoria Hall, Radstock, on 2nd April to begin a discussion that some may not feel comfortable having, but that could save lives.
During the evening, those who attended heard from three women who spoke about their experiences, and what to look for when carrying out regular checks and the signs and symptoms of breast cancer. They were also supported by staff from Hope House Surgery, Radstock and healthy refreshments were served during the evening. The event was in association with the charity, 'CoppaFeel!', which was founded by Kris Hallenga, who was diagnosed with breast cancer in 2009, aged just 23.
One of the organisers, Helen Adams, said: "It was a really successful night with great feedback. 97 people now know more about the breast cancer signs and symptoms to look for and how to check themselves.
"I am most proud that it sent out a message to people of all ages, young and old, to let them know that they are never too young or old to know their own bodies. The event also opened up conversations with people I had never talked to before about their own experiences of examining themselves – and events like this enable that to happen. These conversations could be life-saving."
Such was the success of the evening, organisers are hoping to put on another. For information on attending a similar event later in the year, email: checkingyourboobs@gmail.com