We're partnering with DNA arts to get the community planting pumpkins this summer. The pump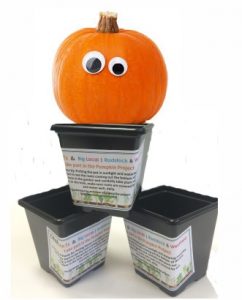 kin planting project invites everyone to grow their own in time for a project in October half-term where DNA arts will be hosting free pumpkin carving, cooking and re-planting workshops with local artists and chefs! Take part and join a community of growers in your local area.
The project will be launched at Round-about Radstock on Saturday 28th May. Over two hundred pumpkin seeds will be planted by the community at the Big Local stall and taken home to grow for October. If you're not able to collect a free pumpkin plant on the day but want to take part get in touch with Sarah from the Big Local at sarah.westell41@gmail.com. There are also lots of local garden centres and shops that sell pumpkin seeds or plants at very affordable prices.
Pumpkins are versatile, nutritious and relatively easy to grow, all they require is a bit of TLC and some well-rotted manure. To help you with pumpkin planting here are some directions and handy tips.
 Directions (if you began with seeds in a pot):
Put pot in sunlight.
Water every day.
Once you start to see the roots coming out the bottom of the pot:
– Dig hole in garden.
– Carefully take plant out of pot.
– Put plant in the hole, make sure roots are covered by soil.
– Water daily.
Find a way to keep the slugs and snails off it (some people use crushed egg shells).
Tips and tricks:
Pumpkins grow best in good, neutral, well-drained soil. Prepare your pumpkin patch with a good four inches of well-rotted manure two weeks before planting.
Pumpkins need a lot of sun. Choose the sunniest growing spot that you have available.
Protect pumpkins during heavy rain and the hottest days with a 'pumpkin shade' – this can be anything that puts a barrier over the plant.
Keep the pumpkin fruit off the soil by placing on a tile.
Keep DNA arts updated on your pumpkins journey by posting photos and status' on their Facebook page. They plan to set up a pumpkin planting social group so you can share advice and stay updated with the project.