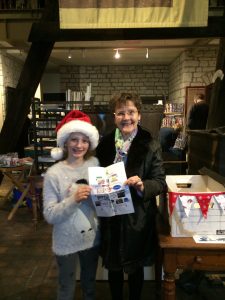 Radstock and Westfield Big Local Vice Chair, Marlene Morley, along with keen helper Emma, drew the winning entries at the Radstock Museum Christmas Fayre on Saturday the 10th of December.
The winners each get a £20 shopping voucher (donated by Radstock and Westfield Big Local) to be spent in local shops only. Our community worker, Sarah Westell, will be in touch with you soon if you have won.
The information on how and where to spend it can be found on the voucher, as will instructions on how the shop can redeem the voucher from Big Local.
This nativity trail competition was a fun way to get people to visit the shops and find out what there is to offer right on their doorsteps – we aim to encourage local shopping to help our local economy grow.