We pleased to say that SWALLOW were finally able to go on their Big Summer Trip, thanks to a grant provided by Radstock & Westfield Big Local! They had successfully pitched at our 8th Dragons' Den, plucking up the courage to stand in front of a community audience and make their case.
Jade Ogden, SWALLOW fundraised said:
Our members who have learning disabilities always look forward to the SWALLOW summer trip and excitement for it starts building very early on in the year.  Many of our members do not get the chance to make such trips very often, because most cannot travel independently and some people do not have access to the support they would need to go on long day trips.  It's also a great opportunity for them to spend time together as a group and enjoy the day with their friends, again, something that is challenging for them to organise outside of SWALLOW.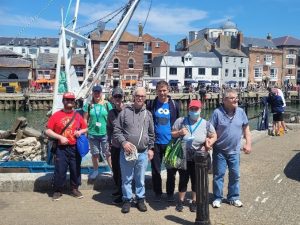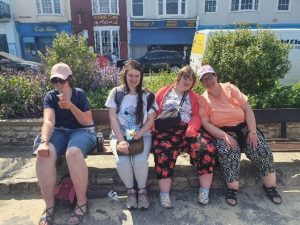 Members have reported having a really lovely day, they enjoyed a fish and chip lunch, ice creams and some people also braved a paddle in the sea!