We're pleased to hear from The Natural Theatre Company, who put their Dragons' Den winnings of £500 to good use. Here's their report:
This grant was to support a series of free Drama sessions for young people in Radstock.
We printed posters for the workshops, distributed them around the town and publicised the workshops through social media.
We ran 6 x 90 minute workshops over 3 days leading up to the Radstock Fayre. (See poster attached)
We decided to run 3 workshops for 11-17 year olds and 3 for 18+.
They took place on Saturday May 20th, 27th and June 3rd 10.00-11.30 and 12.00-1.30pm
There were 13 participants altogether and many came to every session.
The first 2 days workshops were run by members of the Natural Theatre Company and included warm up games, street theatre techniques, a chance to try out a Naturals piece each week and developing ideas around an environmental theme.
The last workshop day was run by Jon Hicks and Matt Rudkin of the company that they would perform with at the Radstock Fayre on Sunday June 4th.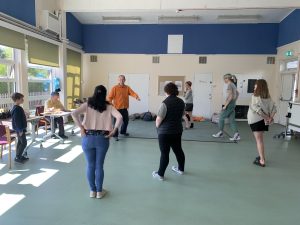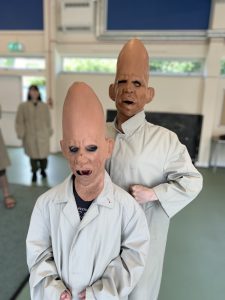 The Radstock Youth Theatre performed as part of the show 'The Visionary' in St Nicholas Church Field as part of the Radstock Fayre. The show focussed on the predictions of a street prophet who foresees the demise of the planet. The community performers played rampaging rabbits, a drunk elephant, a clumsy child, a boy with a squirting hat, Morris dancers, a crow puppet, a mind reader and a lost tourist.
The performance was a great success. There were over 100 people watching this particular performance.
The participants all loved being part of the project and asked when there would be more opportunities to do more.
The Radstock Fayre is going to be an annual event and we are currently looking for funding to continue the Radstock Youth Theatre throughout the year.