2010-2014 – Understanding the community's needs
From the start this project has been about the people who live and work in our area. Residents and local organisations came together to become a steering group that sought to identify the community's needs. An incredible amount of work, effort and passion went into creating our first three year plan – we consulted with residents, carried out research and engaged with local organisations, not to mention wrote draft after draft of the plan until we were all happy. However, there was no time to stop and admire what we had done as we launched straight in to year one of plan delivery. Read more on the plan here.
We decided to use the funds to help organisations deliver new, innovative projects that meet the needs our our community. We aim to draw more money and support in to the area, turning the £1m into much much more.
2015 – Setting the foundations
It's fair to say that time flew by. The steering group became a management committee that is still resident led. We're proud that so much was accomplished behind the scenes; from developing our branding, website and social media presence to creating professional methods of practice and setting up the Big Fund process.
As we are a volunteer-led organisation we brought in help to assist us in getting started. Westfield Parish Council looked after our finances and Somer Valley FM led on our communications. Sarah Westell and Rob Wicke were employed part-time to help deliver the plan.
2016 – Building on our strengths and prioritising projects
This was our second year of plan delivery, operating with a wealth of experience and a great core team. We have developed strong partnerships with local residents, the councils and community organisations in order to deliver the following:
Develop a local food strategy
Develop a youth engagement and empowerment strategy
Continue with the Big Fund – Funding Events and Small Maintenance Works
Investigate options for social investment that brings returns
Get people involved in Big Local and give them the skills to keep Big Local going
Continue the Big Local Dragons' Den event - so far 40 projects have been funded to benefit the community
2017 - Making good progress and planning for 2018:
In our third year we helped make positive changes:
We got the local food strategy ball rolling with a project in partnership with Radstock Town Council to create a community orchard - around thirty fruit trees have been planted. It will take a few years before they become good croppers, but we hope that the community will care for them and enjoy the welcoming space in the meantime. We're now on the look out for more partner organisations that will help us spread the orchard across the community.
We worked with B&NES and Virgin Care to deliver Sugar Smart in our area, bringing in £2,000 for projects from the national campaign. We're proud to say that our participation encouraged B&NES to make our area their flagship Sugar Smart community.
Because of the support from the community for health-based skills-development projects, as well as the opportunity to make a good, sustainable investment, we are developing a plan for a community kitchen where people can learn to cook tasty, healthy and affordable meals.
We are supporting the organiser of a local mini-market, which launched at Round-about Radstock, to grow the idea in 2018 to bring more local shops, entrepreneurs and community organisations together for local people's benefit.
We have helped to set up and fund a regular youth panel with a devolved budget that young people can apply to. Youth Connect are generously providing support. This is something we're really pleased about because it gives young people a voice and an opportunity to make decisions about how to make Radstock and Westfield an even better place to live.
Our 5th Dragons' Den was a great success with over 100 local people present who voted for ten more community projects. It's always a fun occasion and is becoming well know in the community (it even prompted a visit from our MP!), getting funds and support out to the projects than need and deserve it. Even the projects that don't win are offered support to develop and improve their offer, this time two of them took us up on this and were subsequently able to secure some funding.
We have provided match-funding to Writhlington Hall who led a well supported campaign to reduce dangerous parking at school drop-off/pick-up. Our funds went towards a fully surfaced car-park that is used by parents/guardians, helping to keep cars off the busy road and junction.
We contributed to the refurbishment of the Radstock Museum Clock Tower, which is now on time and chimes during sociable hours.
We supported Radstock Town Council by consulting with local people to find out what outdoor exercise equipment they wanted in Springfield Park.
We have refreshed our knowledge of the area and resident's needs, taking into account changes in the area such as population, Hope House moving and other aspects.
The second plan was completed on the basis of the community needs and is set to start in 2019.
We welcomed new faces on to the management committee including Rhea Morgan and Jo Hurst. The management is mainly local residents who care about how the money is used. They offer around 3 or more hours of their time a month to ensuring our plan runs smoothly, projects are funded and that we are connecting with the community. If you're interested in supporting the Big Local please have a look at the different things you can do.
Our 2018 Newsletter: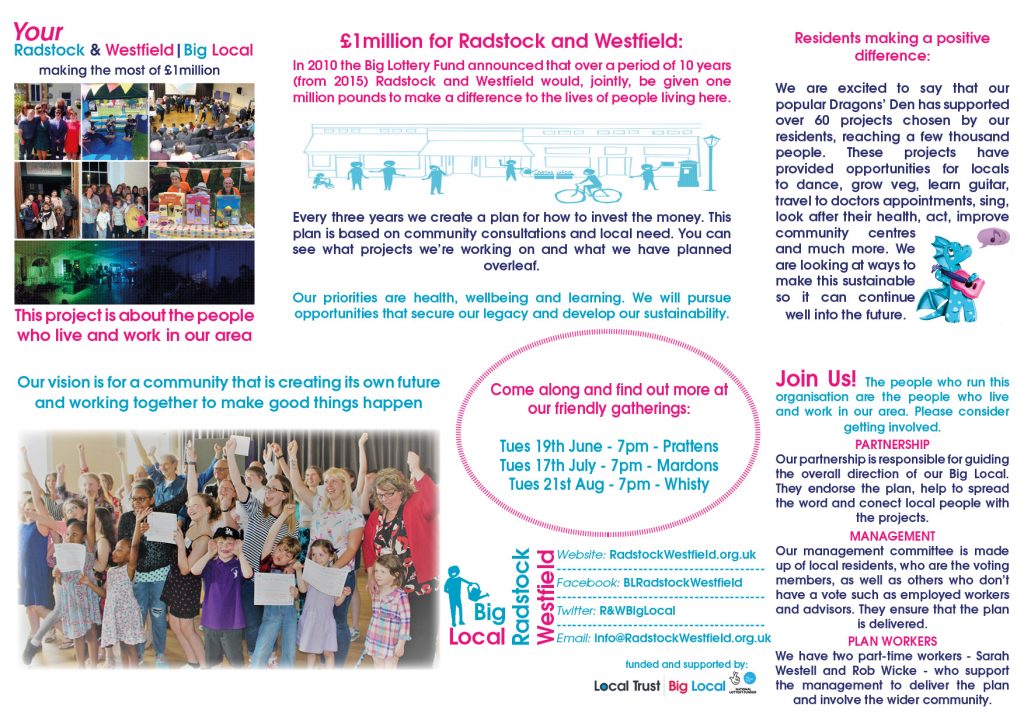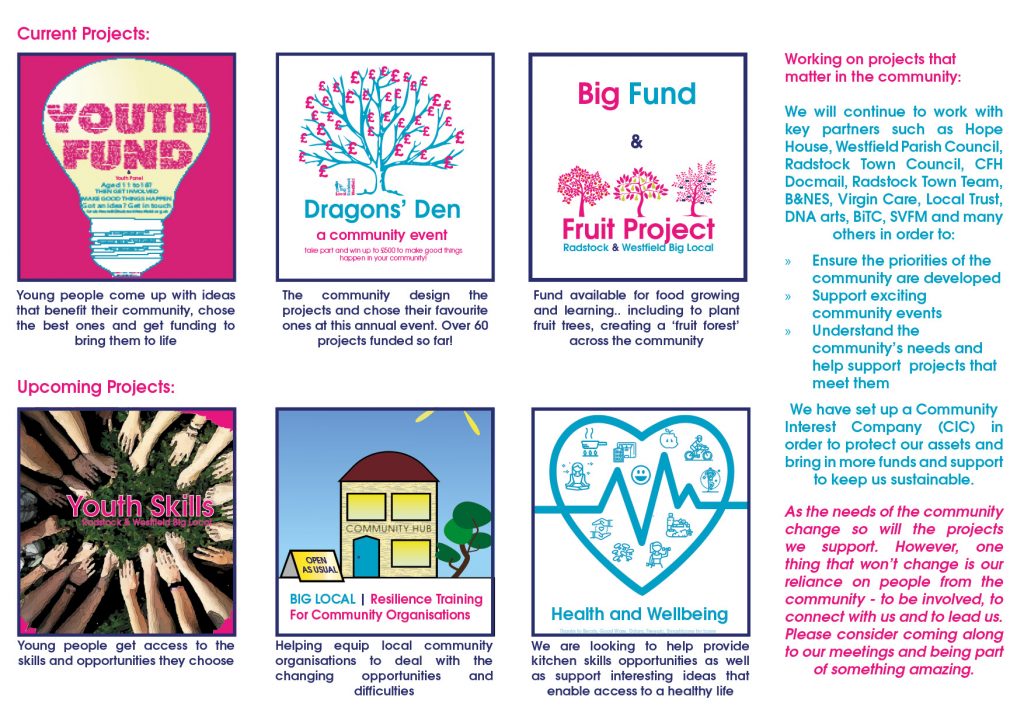 Projects supported so far: (click on the project to read report where possible)